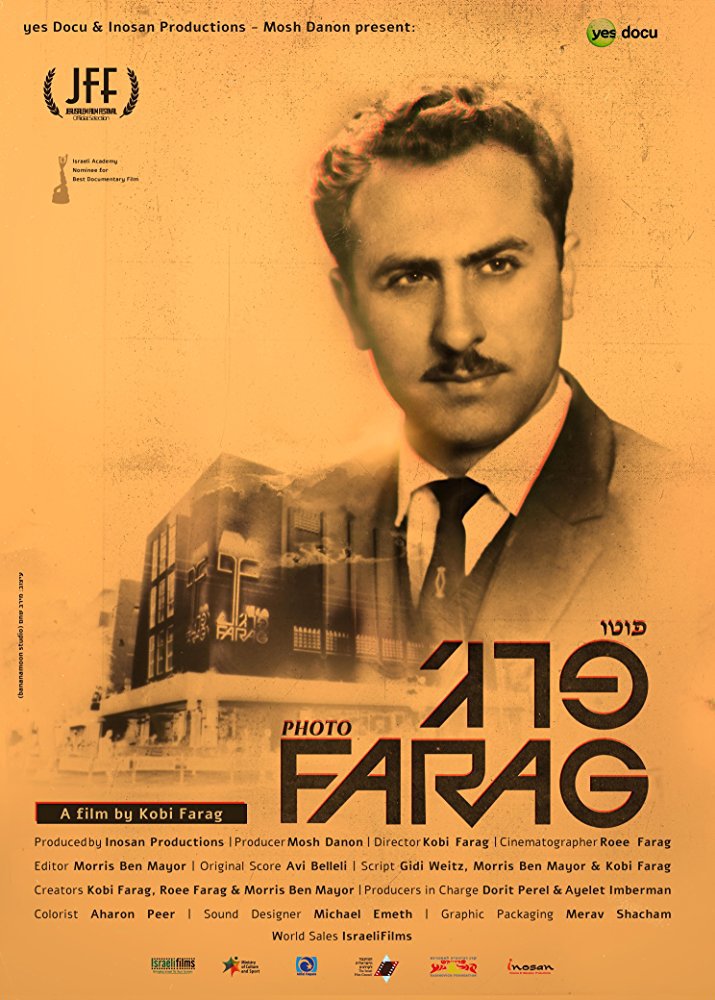 Synopsis
Gripping and moving real life story of the first Iraqi-Jewish family to become a household name in Israel. Emigrating to Israel from Baghdad in the 1950s, the Farag family built a hugely successful photography business which revolutionized the way Israelis took, developed and related to pictures. Kobi Farag, a scion of the famous photographer clan, traces the story of the ten brothers and sisters, who despite their amazing professional achievements failed to protect the family from a painful process of disintegration. Based on fascinating interviews and archival materials, Photo Farag explores the often destructive forces of a family determined to leave its mark on Israeli society. Tel Aviv, on the corner of Dizengoff and Arlozorov. Every day many Israelis walk by the photo shop that was once glorious and remains engraved in the collective memory as the epitome of family and wedding photos, but few know the story behind it. Member of the youngest generation of the Farag family, director Kobi Farag went on a journey to discover the family history. By digging in the private archives, he peeled layer by layer to reveal the story of ten brothers and sisters who immigrated from Baghdad in the fifties and climbed the ladder of success from their lives in the transition camp to a luxurious home. In his own way, he tries to solve the riddle of the painful disintegration of the family that drifted apart.
About the Production - by Kobi Farag (Director)
I was born in 1980, exactly as my family went in different directions. The Farag family of five brothers and five sisters immigrated from baghdad in the fifties, two decades later they built the largest photography studios in the middle east. Each of the siblings had their own share in the thriving family business, until it all fell apart. The first photo lab I remember stood in a shed in our back yard. It belonged to my father, Ezra, the youngest of the farag brothers. I still remember the scent of the photo papers and chemicals to this day. My first job in the photography world, as a child, was to cut pictures with a guillotine. Back then I had no idea my family name was a synonym for photography, and that not so long ago my father's lab was on the corner of dizengoff and arlozorov streets in tel aviv. I didn't know he hadn't worked there alone, but alongside his nine brothers and sisters who were accompanied by over fifty workers. At that time, I haven't heard about my uncle Farag – while the whole country did. As I grew up I understood everyone knew about my family. I found out we once had an empire, I heard that generations of israelis passed in front of the lenses of my uncles, some of which I haven't even met. Slowly, details of my family's history were revealed to me. That's when I knew I wanted to make this movie, I had to tell myself this story, but I had no idea how. even though I was born "with a camera in my hand" so to speak, I decided to take a different path. My parents thought it was time my brother and I run our own small photography store, and thought I would be on board with their plan but I chose theater and acting. As I turned 30, my aunt katrine, the retoucher, who made sure all of the pictures were flawless, passed away. It was then I decided that after several years in front of the camera, it is time to move to the other side and make this movie before it's too late. I dreamt that through this creation I might be able to nurse their pain, my goal was to record all the brothers and sisters and gather as much information as possible. I went to my uncle Farag, the oldest brother that was forced by life's circumstances to take responsibility for all of his brothers and sisters. He brought the whole family together using his artistic and marketing talents, lead them to a prosperous business, to the point of rupture and disintegration. Directing a documentary film was new to me. I had to confront my personal feelings and my lack of knowledge in the field. At first, I didn't want to take an active part in the film and I tried to let family members, acquaintances and other public figures tell the story. But soon I realized that it is my story to tell, so I moved in front of the camera, wrote the script and narrated it. It proved to be the right choice. Since the movie came out I saw how audiences react to it – it is first and foremost a story about a family. But then again, it is also about photography, memory and self-determination. While working I had to find my own voice – a process that taught me a great deal about the different aspects of being a documentarist. I may not have succeeded in my initial goal of bringing my family back together, but I have been able to tell our story in my own voice.
Kobi Farag (bio)
Born in 1980 in Petah Tikva, Israel, to a family of photographers, Kobi Farag became an actor. Along the years he appeared in numerous television series, sketch-comedy shows and feature films. Actor for the Cameri Theater of Tel Aviv. These days he hosts a successful weekly radio program and co-owns a small documentary production company - Ben Mayor & Farag. Photo Farag Is Kobi's first film as a Documentary Director.