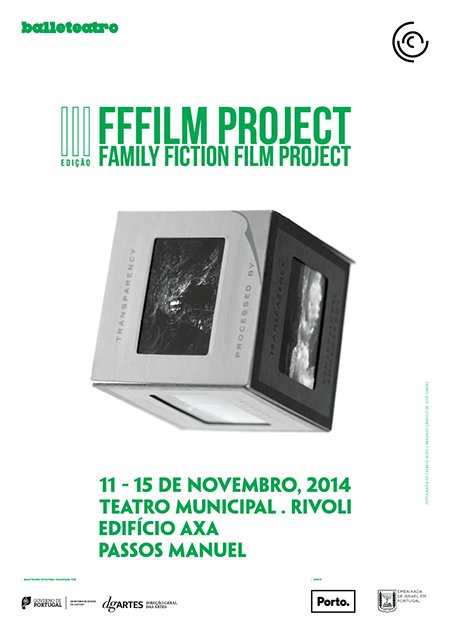 3rd Edition of FFFilm Project 2014 | 11th until 15th of November
Teatro Municipal . Rivoli, Edifício AXA, Passos Manuel
The FFFilm Project (Family Fiction Film Project) is a Film and Video cycle that happens in Porto since 2012 and has been exploring various possibilities around intimacy, memory and connections. The 3rd edition took place between 11th and 15th of November at Rivoli Teatro Municipal, the AXA Building and Auditorium Passos Manuel.
With 67 films selected from over 1,000 nominations, this 3rd edition of the festival had a competitive Section for the first time. In addition to Portuguese, movies coming from different countries were displayed, such as Argentina, Brazil, Canada, Egypt, Spain, Netherlands, Italy, Israel, Iran, Lebanon, Mexico, Poland, Russia, Taiwan and Venezuela, among other nationalities.
This year, the festival program was structured by thematic sections: Lives and Places (focusing on the voyeuristic, biographical or documentary record of habitats and everyday), Connections (with a focus on interpersonal and community dynamics) and Memory and Archive (dedicated to creative approaches from witnesses and found footage). The 21 films in competition were divided into these three sections. There was a non-competitive section dedicated to the fictional genre and another dedicated to the genre of animation.
In addition to the sessions devoted to selected films, the festival program also included the film-concert Togni Circus and La Camera Ottica, with live music of Alexandre Soares, Gustavo Costa and Henriques Fernandes, performing in day 14th at Passos Manuel, at 22h.
X-Y is an instalation by the artist Cesário M. F. Alves which was presented during the festival. The artist has been collaborating with the festival since the start by presenting singular works on photography and installation that crosses the thematic of the event.
Finally, on November 15th, there was a conference devoted to the subject "Displacements of Intimacy". This moment of reflection was attended by Catarina Simão, Filipe Martins (ESMAE), Gabriela Vaz-Pinheiro (FBAUP), Jean Martin Rabot (UM), Jorge Leandro Rosa (IF) and Diogo Aguiar (Like Architects).
As in previous years, the FFFilm Project had, once again, the collaboration of Home Movies of Bologna (Italy) and also of the Visiona in Huesca (Spain), this one hosting the extension of the festival.