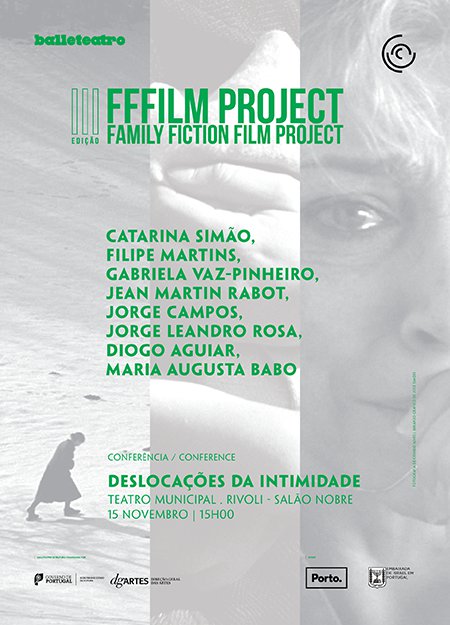 Displacements of Intimacy
CONFERENCE
FILIPE MARTINS
Director, teacher and researcher at CECS. Currently developing post-doctoral specialty in Communication Arts and the University of Minho (CECS). Phd in Social Semiotics (UM). Graduated in Arts and Communication (ESAP), Master in Contemporary Culture (UNL). Participated in academic conferences and congresses in Communication Sciences and Philosophy, with interventions in the field of Semiotics and Aesthetics. He has completed several works of fiction and video-dance in association with Balleteatro, having been selected in international festivals in several countries (Spain, France, Italy, Holland, Belgium, Argentina, Brazil, USA, etc.). Received the prize for best director with the movie "Untraceable Patterns" (InShadow 2012). Teaches or has taught for several years in Balleteatro, the Art School of Porto (ESAP) and the School of Music, Arts and Performance (ESMAE) in areas related to argument realization, interpretation and film post-production. Co-directs the film festival FFFilm Project, currently in its 3rd edition.

CATARINA SIMÃO
Amateur - militant, in the writing of the fight unspoken text
Catarina Simão lives in Lisbon and is an artist. She has been researching on processes that involves collaborations and different ways of presenting to the public. Her best-known work is the proposed installation-test, which uses documentation, archival film, writing, drawing and video related to the Mozambican cinema produced during the years of struggle and the early years of independence from colonial occupation. She showed her work at the Serralves Museum, Biennial Expresses 8, Africa.cont and other art institutions in Europe, Mozambique, USA and Lebanon. Mozambique Institute is her latest work involving film and pedagogy, and currently part of the exhibition Really Useful Knowledge presented at Reina Sofia Museum in Madrid.
DIOGO AGUIAR
Profession: Reporter
With the aim of developing research to produce content for Homeland Journal, to be distributed in Venice, we become our own city reporters. Thirty days, inhabit an old bank in downtown Port: 66-68 number of Avenida dos Aliados. Instead of watching from a distance and theorize about the ways the city can accommodate people in transit, we choose make ourselves our own transient inhabitants of the city, experience the city from within, staging and incorporating the very condition to be investigated. Over the thirty days, we did an intensive open program of various disciplines, inviting residents, owners, architects, politicians, and sociologists. The project became an editorial platform of discussion, an open and plural journalistic investigation, in which the contents were generated in collaboration with diverse actors. We act as both reporters and reported, infiltrated and exposed in an attempt to uncover the reality of transitional housing in Porto and ask how can the contemporary city in which they flow transits housing, offer new lexicons of hospitality.
Diogo Aguiar (Porto, 1983) Architect, graduated from the Faculty of Architecture of the University of Porto in 2008. Collaborated with UNStudio in Amsterdam. Since 2010, co-founder of LIKEarchitects, headquartered in Port collective and internationally recognized with awards ArchDaily Building of the Year 2010, International Space Design Award (China) and Minsk International Biennale of Young Architects (Belarus) and appointments for detail Prize in 2011 (Germany) and FAD premis 2013 (Spain), among others. As an individual, is also co-author of Eco-Resort Stones Salado, built in 2012, and won the ArchDaily Building of the Year 2012. Recently, he joined the official Portuguese representation at the Venice Architecture Biennale 2014, curated by architect Pedro Campos Costa
JEAN-MARTIN RABOT
The staging of intimacy in reality shows: the panopticon to aisthesis
Jean-Martin Rabot is Assistant Professor at the Institute of Social Sciences, University of Minho. His PhD in Sociology in the area of knowledge of fundamental theories and methodologies, in 2005. He teaches in the area of sociological theories, sociology of culture, sociology of art, media and communication and has developed research work in the field of sociology of everyday and the imaginary, the sociology of postmodernity and sociology of interactive media. Participated in several research projects on various editorial boards and organizing several international events.
JORGE LEANDRO ROSA
The intimate, the world inside out
Jorge Leandro Rosa is a researcher at the Institute of Philosophy of the University of Porto (APARG), also is a professor at University. Published, in addition to other titles, A Impossível Experiência Final da Modernidade (The Impossible Final Experience of Modernity:), Lisbon: Fundação Calouste Gulbenkian. He is a regular author of articles and papers in national and international publications, also translator of contemporary philosophers and thinkers. Having been colaboartor at nespapers Público and Independente, is currently co-editor of the magazine Nada (Nothing).
GABRIELA VAZ-PINHEIRO
Between private and public, or the displacement of memory.
The general conditons of the ways in which images circulate today should generate a new sense of awareness of the transferences between the private and public spheres. It is not that the limits between both have been diluted, but that we do not have anymore a clear sense of where we are operating. Family photographs as a memory device have become references in wider practices of looking. They become accessible to unknown publics, even if we believe we are able of controlling access to them. How, therefore, do we control our personal history (or histories) if we are seldom aware of where they are disseminated and by whom they are visioned and, ultimately, used? How has technology and the new condition of the image changed the "family album"? We have always known that personal images fabricate our past. But do they fabricate our future(s)? Finally, how are we aware of the political implications of the public realm in the private sphere and our personal histories? This presentation will attempt to update a reflection on these issues, based on some artists' work and some critical thinking that have contributed to generate a discussion on the matters, even before the impact of the dissemination process put in motion by technology.      
Gabriela Vaz-Pinheiro holds a Degree in Sculpture from the Faculty of Fine Arts, University of Porto, the European Scenography Master of Arts from Central St Martin's College and Utrecht School of the Arts; Master of Arts Theory and Practice of Public Art & Design at Chelsea College of Art & Design, and a PhD by project at Chelsea College, with the thesis: "Art from place: the expression of cultural memory in the urban environment and in place-specific art interventions".  Invited lecturer at Central St. Martins College of Art & Design, London, between 1998 and 2006. Has been awarded scholarships from the Calouste Gulbenkian Foundation, Ministry of Culture, Contemporary Art Society and The London Institute, as well as received support from the Direcção Geral das Artes / Instituto das Artes. Her work reflects on questions of identity and context, using artistic pratice as a way of interrogating the vey notion of being an individual. Collaboration with the Institute of Contemporary Arts in London for about two years, including the organization of conferences such as "Spaced Out" around the idea of interdisciplinarity between art and architecture. She has had a continuous involvement in interdisciplinary seminars and publishes in international art and art research magazines. Her editorial work has also been continuous with several published books. Responsible for the Art and Architecture Programme for Guimarães 2012 European Capital of Culture. Lectures, since 2004, at the Fine Arts Faculty, University of Porto, as well as regularly collaborates with many other academic institutions.