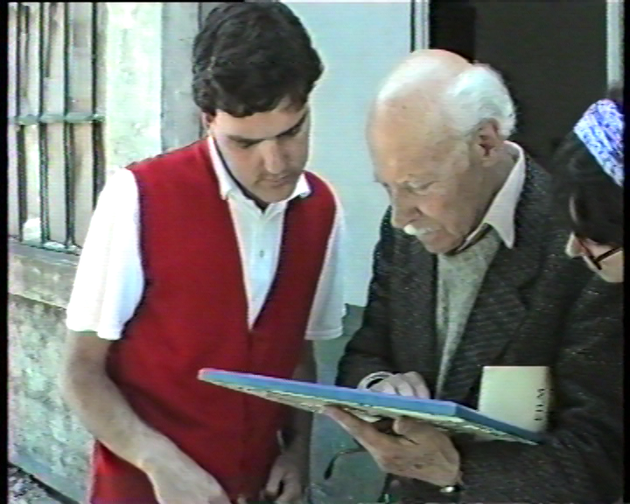 MEMÓRIAS
Adriana Rocha José Alberto Pinto Luís Vieira Campos
In 1987, the directors of this film were students of cinema in Cooperativa de Ensino Superior Artístico Árvore I,, current ESAP-Escola Superior Artística do Porto. While in their first year of studies, they decided to invite Henrique Alves Costa, a scholar of Portuguese cinema and historical manager of Porto's Cineclube, to guide them on a visit to Invicta Film (1917-1928), the first major Portuguese film producer. In another epoch, in Porto of the 80s, the shooting recorded this wandering by the former studios of Invicta and also by Quinta da Prelada, whose exteriors served as setting for Frei Bonifácio (1918) – film directed by Georges Pallu. Memórias is released 34 years later of these shootings with Henrique Alves Costa.
biografia
Adriana Rocha studied Cine-Video at the Escola Superior Artística of Porto and Cinema in Lisbon. She is a teacher at the Soares dos Reis Arts School.
Filmmaker and interdisciplinary artist, José Alberto Pinto studied Cinema, Journalism, Documentary and Fine Arts. Author of several films and installations, he developed a teaching activity at the Escola Superior Artística in Porto (1998-2009) and the Faculty of Fine Arts of the University of Porto (2008-2021) as a researcher at the i2ADS_Instituto de Investigação in Art, Design and Society.
Luis Vieira Campos studied cinema at ESAP – Escola Superior Artística fo Porto. He was an intern of Manoel de Oleiveira in the shooting of A Divina Comédia (1991) and sound intern of Antoine Bonfanti in the shooting of Amour en Latin (1989), by Saguenail. He has been working in cinema and audiovisual since 1990 in the areas of image, edition, production and direction. Collaborated with Madragoa Filmes, RTP- Radiotelevião Portuguesa, Filmógrafo, Jorge Neves Produção Audiovisual, LAP Filmes, MGN Filmes, Cariri Filmes, Papaveronoir e Hélastre. He was part of the board of Alfândega-Filmes and Fimes Liberdade, of which he was a founding partner in 2008. He directed aDeus (2000), Quando eu Morrer (2006), Dia de Visita (2011), Bicicleta (2014), O Sapato (2017) e Geni (2018). He is currently producer / director and is a professor in the Theather and Cinema Department of ESAP – Escola Superior Artística do Porto.