30 SEP  10H00 - 13H00 / 14H30-18H30  Casa Comum
OFICINA SUPER 8
With Tânia Dinis e Ricardo Leite
(+16 YEARS)
REGISTRATION: producao@balleteatro.pt
The objective of this small workshop is to offer participants a brief introduction to the theoretical and practical aspects of experimental cinema and Super 8 mm film. It covers the history of its emergence, the various supports used, and explores the possibilities and challenges of creating Super 8 mm films in today's contemporary production.
Each participant will be provided with a roll/cartridge of Super 8 mm black and white film along with a camera to capture their short film. Once the film is developed, participants will have the opportunity to project their creations during the festival to see the final results.
17 OCT  17H00   Casa Comum 
Film presentation from Oficina Super 8 
 
21 OCT  15H00- 18H00   Batalha Centro de Cinema  Bar 2º Floor
ENTRE IMAGENS
WITH TÂNIA DINIS
(6-12 YEARS OLD)
A workspace designed to foster the development of individual and collective skills, this program will bring together various art forms, including photography, media arts, and cinema, utilizing found footage images like Super 8 films and family archive slides. Through artistic experimentation, the focus will be on themes of intimacy and memory, reorganizing, revisiting, and manipulating these visual materials through montage, collages, and sound fragments. Participants will engage in constructing small narratives, exploring the interplay of image and sound, and delving into the concept of image as a representation of the ephemerality of time and memory. The workshop will culminate with a projection of the participants' creations.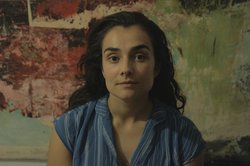 Tânia Dinis, born in Vila Nova de Famalicão in 1983, holds a master's degree in contemporary artistic practices from FBAUP (2015) and a degree in theater studies from ESMAE (2006). Her artistic work embraces various perspectives and fields, including photography, performance, and cinema, exploring a relational aesthetic. She often starts her creative process from family archive images, both personal and anonymous, appropriating them or using other real image records.
Tânia was selected as a director for the FilmaPorto scholarship, where she developed the short film project MARIAS. ELAS ENTRAM E FICAM (2023), a theatrical show produced by TEP and Teatro Municipal do Porto. In 2013, she made her debut as a filmmaker with the award-winning short film Não são favas, são feijocas followed by other works such as Arco da Velha (2015), Laura (2017), Armindo e A Câmara Escura (2017), and Catraias (2023) produced by Curtas de Vila do Conde.
Tânia was selected as an artist by PACT-the workshop for her creations ÁLBUNS DA TERRA and ÁLBUNS DE GUERRA (2020/2021), and she also participated in other projects, including BASTIDORES  (2019) produced by TMP, and LINHA DE TEMPO (2021) presented at Circuito Braga Media Arts-GNRATION.
Artist selected by Solar Galeria de Arte Cinemática de Vila do Conde for the residency, performance and installation APONTAMENTOS DIÁFANOS (2022).
She collaborated in various projects curated by Eduarda Neves, worked with the production company Bando à Parte, and contributed to the CAAA – Center for the affairs of Art and architecture. Tânia has also participated in several collective exhibitions and is represented in the contemporary art collection of the municipality of Porto.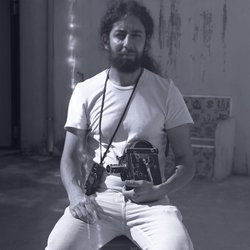 Ricardo Leite, born in São Paulo, Brazil, in 1978, pursued his studies in film-video and theater at the Escola Superior Artística do Porto from 1998 to 2002. Since 1999, he has been actively involved in organizing and participating in various film shows and exhibitions, presenting his works at events across Europe, Morocco, Brazil, and Cape Verde. Throughout his career, he collaborated and worked with esteemed institutions such as Cineclube do Porto, Cineclube Amazonas Douro, and the Association of cultural and artistic initiatives (AICART) in Porto. Additionally, he played a vital role as one of the founding partners of Átomo47, the country's first Independent Film Laboratory, established in 2007.
Focusing mainly on the experimental genre and film, Ricardo has been engaged in various projects since 2002. In 2011, he ventured into the documentary genre with the video feature "Mazagão, a água que volta," supported by ICA and RTP. He has also been involved in academic roles as an internship monitor for art school students, including at the "Ecole Superieure des Beaux Arts Angers Le Mans" in Tours, France (as part of an Erasmus project), at IPCI - Porto, and the Escola Superior Artística do Porto. Currently, he is a PhD student in the art education course at the Faculty of Fine Arts of the University of Porto, working on his thesis "biodegradable processes in photography and cinema film."
Ricardo Leite's artistic pursuits have taken him to various international destinations, such as a residency at LIFT - Liaison of Independent Filmmakers of Toronto, Canada, in 2016. He is also actively involved in independent laboratory projects like Torre and Casa do Xisto. Beyond his creative roles, Ricardo is also experienced in cinematography and sound technology. In 2022, he participated in the collective film project "here where everything ends," shot in the indigenous village of Bugio, State of Santa Catarina.